The term podiatrist is a more recent replacement of the original term Chiropodist. The change was made in Australia back in 1977 mainly to avoid confusion among patients but also to implement more standardised practices that must adhere to specifically outlined health regulations. Prior to this Chiropodists were an unrestricted practice without legislation in place to protect both doctors and patients.
In the '60s the word podiatry did not yet exist and chiropody was the typical term used to refer to medical professionals that specialised in feet and ankle issues. Back then most chiropodists were known only to provide foot inserts similar to the orthotics podiatrists use today. These mostly functioned to decrease and alleviate pain levels caused by complications that arise from illnesses like diabetes or arthritis.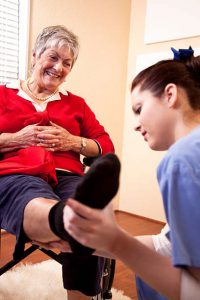 By 1968 chiropodists and other individuals working in this field had spent decades lobbying the Chiropodists Association of Victoria. This association has since been renamed to the Australian Podiatry Association. Back then, however, The people working as foot doctors and foot specialists were lobbying to bring into legislation the Chiropodists Act which officially came into operation in 1970. 
This legislation was to enact rigorous and standardised regulations for the practising of chiropody around Australia. It also allowed for the creation of a registry wherein all practising chiropodists are registered. This offers far more legal protection and thus a more reliable service for patients and doctors alike. This also meant that training and education could become more rigorous and focused.
By 1977 the term chiropodist stopped being the official term for foot doctors and foot specialists with podiatry being implemented as the replacement. Today, in Australia podiatry is the term we commonly use when discussing doctors of the feet but in the UK chiropody is still a common term that is used interchangeably with podiatry. 
These days when you are looking for a "podiatrist near me" or a "chiropodist near me" you will encounter the same medical professionals with the same skill sets and the ability to treat the same ailments. Chiropodists and podiatrists can treat a huge range of foot, ankle and lower limb issues including but not limited to.
General foot care

Nail bracing

Callus's

Corns

Cracked and Dry Heals

Acupuncture

Heel pain

In-grown toenails

Thickened touch nails

Verrucae
Foot pain can be an extremely complex issue that requires the expertise of a highly trained individual for adequate treatment and healing. Feet are an extremely intricate system of bones, joints and tendons all working together in unity to propel us forward and allow us to walk and run every day. 
Pain can be an indication of a plethora of issues even ones that are caused further up the leg or back. A chiropodist or as we now typically say, a podiatrist is trained to assess this pain and ascertain the cause of it. They can then provide appropriate treatment and alleviate the issues the patient is dealing with. 
If you have been typing "chiropodist near me" into google and can't seem to find good results simply switch that search to "podiatrist near me" and you will have much better luck. Or you can simply book an appointment with Grace Podiatry and have one of our highly trained and skilled podiatrists (or chiropodists) assist you with whatever ailments you are dealing with.